This is a complete guide to whether or not your business needs a mobile app in 2022.
If all the different points of view out there are confusing you, continue reading and you'll find the definitive answer in this article to help you make the final decision.
Let's dive right in.
---
Quick info.
According to the Digital 2022: Global Overview Report, 92.1% of the 4.95 billion users of the Internet used their mobile phones to access the internet.
From the data, you know that there's a huge demand for mobile apps.
And you know you should be taking advantage of this opportunity.
But does your business really need a mobile app?
To help you get an answer to this question, you'll have to start with these 6.
Does Your App Help Increase Revenue or Decrease Business Costs?
Building and maintaining an app can be quite challenging.
But having one shows that the business owner is innovative, aggressive, and keeping pace with new technologies.
If you're building an app to:
improve engagement with your customers
get a deeper understanding of their need and pain
boost their loyalty and trust
enhance brand recognition
promote new services or products more effectively
Then, you are on the right track.
Never build an app just because it is the latest "trend" or FOMO (fear of missing out).
Always make sure that the app you plan to build can either:
increase topline revenue for your company; or
reduce cost by improving efficiency
Is Your Target Audience Mobile-Oriented?
Who is mobile-oriented?
Users that spend a lot of time using smartphones rather than computers.
According to research, the average mobile screen time per day for internet users aged 16 to 64 is 3 hours and 43 minutes.
In other words, mobile addiction is having a major impact on how businesses receive online traffic today.
As a business owner, you should be capitalizing on this increase in mobile traffic.
If your target users are a part of the mobile workforce, they are on the move most of the time.
Therefore, building a mobile app for them would make perfect sense.
But mobile apps might not be necessary if they are predominantly on their desktops and require larger screens for complex information and functions.
So how do you know if your users/customers are mobile-oriented?
You can always check.
Is there any demand from your current users to have an app?
Let's use Airbnb as an example.
They started with a web application.
But, the user base keeps growing.
As hosts start having multiple units in different locations, using the web app on a desktop is no longer convenient as they are required to travel to different locations.
Travellers are not always using their desktops, they are travelling!
As you can see, their users are mostly mobile.
Hence, it made sense for them to build a mobile app to provide a better user experience to their users.
Use Google Analytics to find out where your customers are.
Next, you can use Google Analytics.
Open up the User tab, select Tech > Tech Overview,
You will be able to see how many visitors are using mobile devices or websites.
Moreover, if you select Tech Details, you can see the type of devices they are using to browse.

Is There a Market App For Your Business Niche?
In 2021, statistics show that 230 billion apps were downloaded worldwide.
This tells us that the mobile app market is in high demand yet very competitive at the same time.
Hence, you need to build an app that solves a real problem for your users.
Because if it isn't, no one will be downloading your app and you'll be wasting hundreds of thousands of dollars.
Take a look at the picture below, the top 5 most popular categories downloaded on both the Google Playstore and Apple Appstore are almost the same.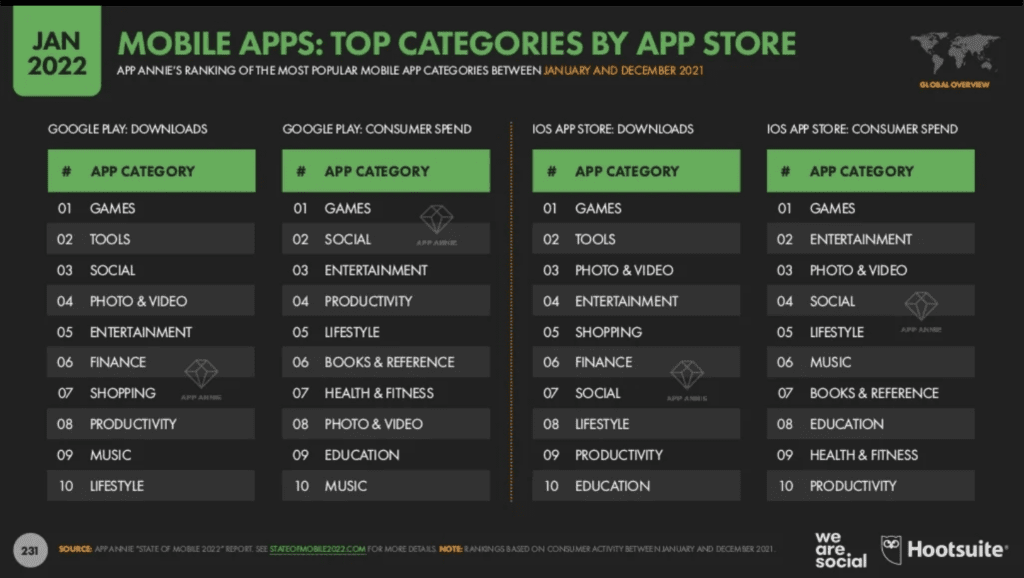 But don't try to create yet another copycat app.
Instead, look for a smaller niche where you are very familiar with the target user's pain points and create a solution that solves their problems.
Do the right market research to find out if enough people are looking for that kind of solution.
Will Your Customers Use Your App Often?
Getting users to download your app is just the beginning of the user acquisition journey.
You want your customer to use your app actively rather than just accumulating downloads.
To help you answer this question, think about the potential interactions your customers will have with your app.
The more frequent your customers need to depend on your app to solve a problem of theirs, the better.
For example, a food and groceries delivery business.
First, most people eat at least 2-3 meals a day.
Second, most families will go for groceries shopping at least once a week.
If you target the right audience, you will have users using the app at least once a week, probably up to once a day if they are busy working professionals.
Users will find it more convenient to have a mobile app since they can place orders anytime, anywhere, right from their fingertips.
On the other hand, if your goal is to showcase your products or services for marketing purposes, you probably don't need a mobile app since a mobile responsive website can already do that.
And you might have a hard time getting customers to download the app because who wants to install an app just to be sold to?
Is Mobile App Absolutely Necessary to Solve Your Business Problems?
As an app developer, we always ask our clients these questions.
"What problems are you trying to solve?"
"Can you solve it without a mobile app?"
Everyone thinks it's cool to have their own mobile app.
But do you want your app to help you make more impact and money?
Or do you just want it to look cool?
You may not realize this, but you need to have a strong reason for your target customers to download your app.
Sometimes, websites and other online channels are more than enough to accomplish your goals.
Do You Need Native Smartphone Features?
Native features like camera, gyroscope, location tracking and biometrics will work better in a mobile app compared to a mobile web.
So if your app requires any of these features to work reliably, then a mobile app might be the way to go.
Having access to these native features directly through a mobile app will help improve user experience too.
Conclusion
To know if you should develop a mobile app for your business, you should have at least 4 YESes out of the 6 questions:
Does your app help increase revenue or decrease cost? [YES/NO]
Is your target audience mobile-oriented? [YES/NO]
Is there a market for your app? [YES/NO]
Will your customers use your app often? [YES/NO]
Is a mobile app absolutely necessary to solve the problem? [YES/NO]
Do you need the native smartphone features? [YES/NO]
I hope these questions have been helpful in determining whether a mobile app is necessary.
How many YESes did you get from all the questions?
Let me know by leaving a comment below right now.