Marketplace Apps Are the New Shopping Malls
According to the online product sourcing and store management app Oberlo, as of 2023, 33% of humanity are online shoppers – that's a staggering 2.64 billion human beings.
Even more impressive is that this figure is an 80 million increase from 2022.
We guess they must have seen the Jackie Chan Shopee ad?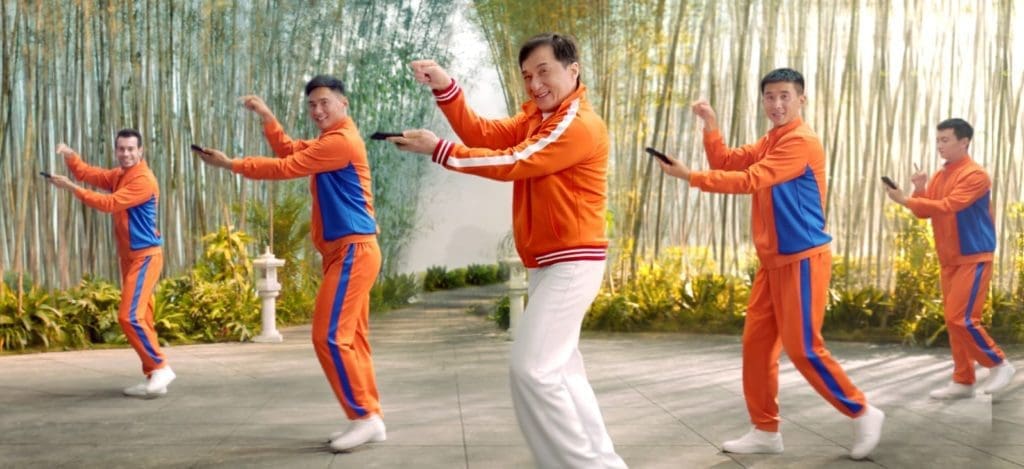 While we're sure the kung fu star helped, the reality is that shopping, like much of our lives, has become increasingly digital.
So, if you're the entrepreneurial sort, building a marketplace app of your own is a great idea.
It's just that building any kind of app can be associated with high development costs.
Either that or go no code and choose between steep learning curves or crude Stone Age interfaces.
That might be true, but it's not at all the case with online marketplaces.
Thanks to their popularity, great no-code marketplace apps can be built both quickly and cost-effectively.
In this post, we'll show how you can build a perfectly functional marketplace app in just a few days.
First, let's dive a bit deeper into the features and mechanics of marketplace apps.
Types and Examples of Marketplace Apps
You could spend all day listing out increasingly specific niches, but marketplace apps typically come in three broad categories:
Physical & Digital Product Marketplace App
The most common type of marketplace app is the marketplace app that sells physical and digital products. For example, look at Amazon, Etsy, eBay, and our personal favourite, Steam.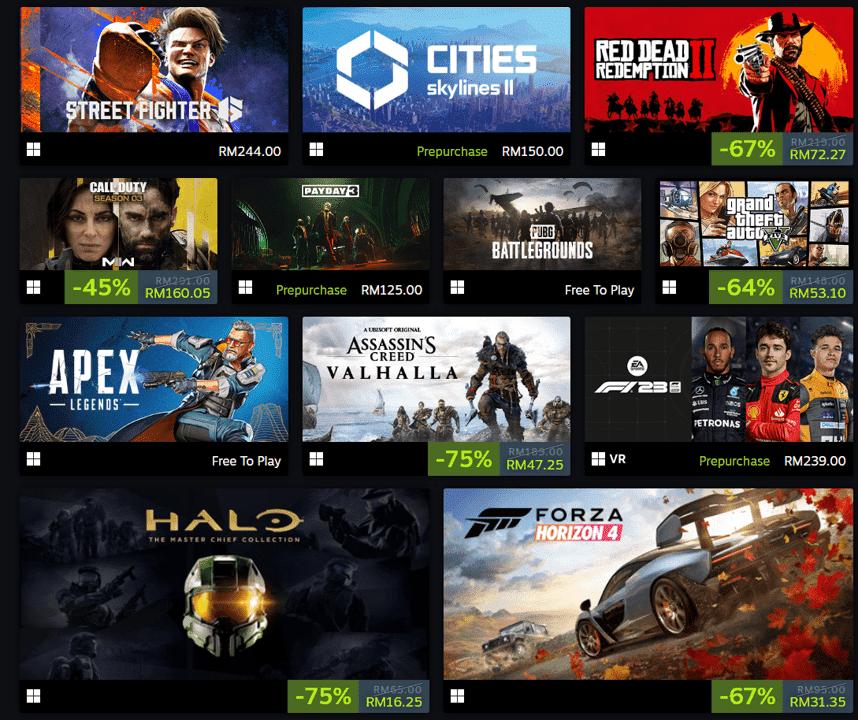 Defining features include:
Stock management
Multi-vendor support, and
Shipping and returns
Services Marketplace App
Services marketplace app is also super common – think Fiverr and Uber, and of course, the dozens of clones they have spawned.
Defining features include:
Location-based features, and
Built-in invoicing for B2B transactions
Rental Marketplace App
The last type is the rental marketplace app, which allows users to book something temporarily – typically high-value items.
And yes, we're all thinking of Airbnb here.
Defining features:
Again, location-based features
Photo/video identification (to avoid incidents pictured above), and
Clearly stated terms
General Features of Marketplace Apps
On top of the specific features mentioned above, pretty much all marketplace apps will need the following features to deliver a satisfactory experience, meaning it's the bare minimum it has to deliver to not be considered lacking:
Login and authentication
User profiles
SKU Listings
Search bars
Filters
Checkout
Secure online payment gateways
On-platform communication
Reviews
And for the backend, these are the features that make the marketplace apps usable for those running it:
Admin capabilities
App analytics, and
Reliable SEO tools
If we had to describe this list using famous song lyrics, it would be a-lo-lo-lo-lo-long.
We're not 100% certain, but we think the original song was talking about app development anyways.
Point is: it's a long list of to-dos.
If you hired a developer or built one yourself with a conventional no-code app builder, it would either take a lot of money or time.
A quick Google search and you'll see sources quoting $30,000 – $150,000.
Ha, bet you just threw up a little in your mouth, didn't you?
If you were working with competent developers, we don't think that's an unrealistic range.
Thing is, unless you need a truly unique marketplace app (in which case we're pretty competent app developers ourselves, so come say hi) there's zero reason to spend thousands on developing a marketplace app.
Instead, you should go for a no-code marketplace builder.
What the Heck is a No-Code Marketplace App Builder?
A no-code marketplace app builder is a no-code app builder that's specialized to help non-tech founders rapidly create a very specific type of app.
If you have to ask what kind of app, you might still be thinking of the girl from the song.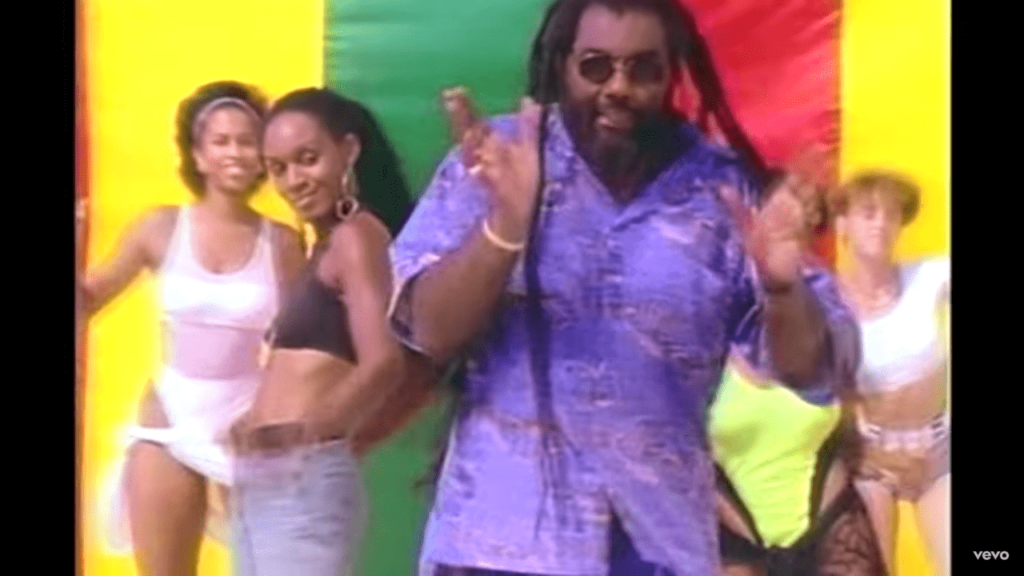 No-code marketplace apps work just like conventional no-code app builders.
They provide a visual interface with drag-and-drop functionality, enabling users to design and customize mobile and web apps with pre-built components and templates.
Benefits of a No Code Marketplace App Builder
The main difference and advantage are that a no-code marketplace app builder provides components and templates uniquely suited for marketplace apps.
Marketplace-specific components provided by no-code marketplace app builders are:

product listing templates
user profile templates
advanced search and filtering
comprehensive product review systems

Marketplace-focused workflows provided by no-code marketplace app builders include:

handling user registrations
managing listings
facilitating transactions
Buyer-seller messaging support

Marketplace-specific integration capabilities provided by no-code marketplace app builders:

payment gateways, and
shipping providers
All this is to say they provide users with a more comprehensive marketplace app template compared to more general app builders.
Best No Code Builder to Create a Marketplace App
After taking a look at various options, we've come to a pretty comfortable decision: For now, the best no-code marketplace app builder for most non-tech founders is Sharetribe.
Sharetribe has two packages. Sharetribe Go and Sharetribe Flex.
Together, they're the perfect solution for a lot of marketplace use cases – you only have to look at their user showcase to see the huge variety of apps they cater to.
And for new founders just testing out an idea, Sharetribe Go is perfect.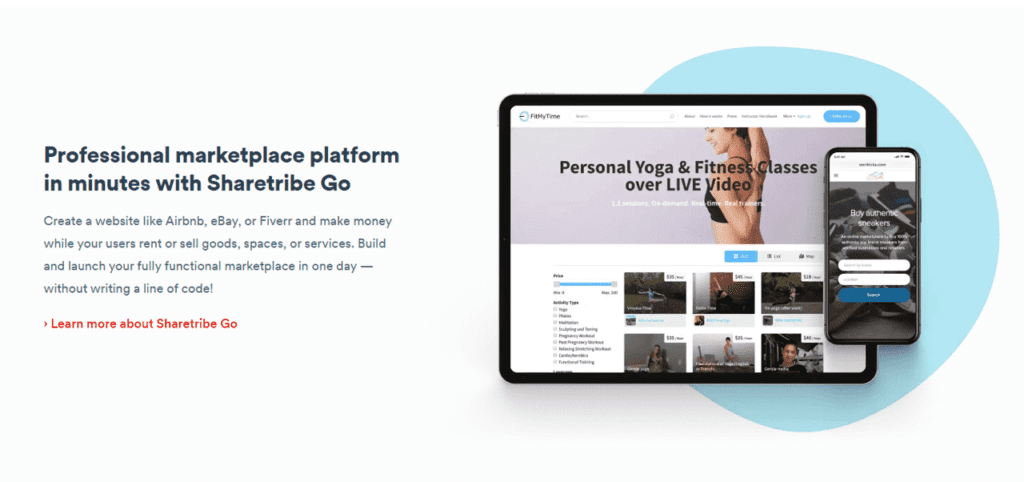 For the reasonable price of $119 per month, a Sharetribe Go subscription allows you to rapidly customize an existing template.
You get a working app with all the necessary features of a marketplace: payment gateway, analytics, listings, authentication, SEO – everything.
Sharetribe offers hosting, but you're free to use your own domain.
That right there is an MVP, ready to face users within a few days' worth of work and at just $119 a month.
Exactly as an MVP should be.
Going beyond MVP
Say your marketplace is a success.
First off, congratulations.
Now you want to really build it beyond the capabilities of a template.
If you were on most other no-code app builders, you'd have to hire a developer and they start building your app from scratch.
With Sharetribe, you still have to hire a developer, but you can seamlessly transition into Sharetribe Flex, which provides a headless backend designed for marketplaces.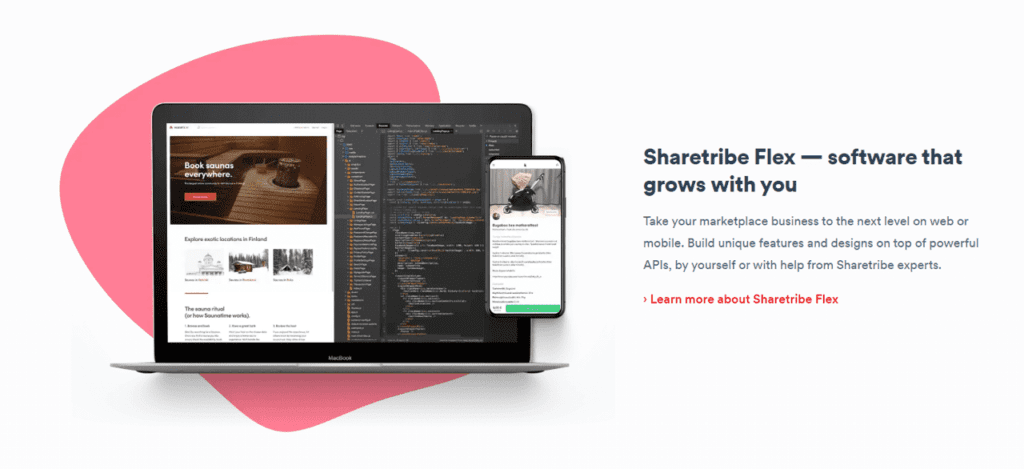 The idea is that you can now get your developer to build you a custom frontend with all the features and integrations you want and easily connect it to Sharetribe's backend.
That sounds like a lot of extra steps, but when you're at a stage where custom development is needed, you'll know it's actually far simpler and faster.
Their specialized template covers the essentials, and a developer can modify, add, or remove features depending on your needs.
You can then easily migrate your Sharetribe Go data over to the new marketplace.
Your users won't know they've moved, they just think the existing app got an upgrade.
In fact, Sharetribe even lets you import external data, meaning data from outside a Flex app but this will definitely need the help of someone with technical know-how.
But it's possible.
The cost of a Sharetribe Flex account is going to start at $299/month for up to $30,000 in monthly transaction value.
Excuse us, you're making $30,000 a month – are you really complaining about 300 bucks?
You get no sympathy from us – shut up and enjoy your $29,700 dollars.
Conclusion: Build Marketplace App MVP with Sharetribe Go
Marketplace app or not, all SaaS projects begin life as MVPs.
The whole point of an MVP is to move fast, as cheaply as possible, and either validate an idea and continue development or discard it and move on.
There's no question that no code marketplace app builders are the way forward when it comes to this.
Specifically, Sharetribe offers the following benefits:
Marketplace-focused features that allow for rapid MVP launch
Native hosting to keep things simple
Extremely attractive price point compared to the value offered
Long-term growth and scale into custom development with Sharetribe Flex
Even Sharetribe Flex is attractively priced!
Really, what more could you want from a marketplace app builder?
Heck, we're developers, and we'd probably use Sharetribe Go to create a Marketplace MVP ourselves!
🔑 Key Takeaways
Marketplace apps are so popular that MVPs can be built and launched in just days and for cheap.


Unless you need an extremely unusual type of marketplace, a no code marketplace app builder is the best solution.


No code marketplace app builders are just like normal no code app builders in that they come with visual interfaces and drag and drop functions.


No code marketplace app builders come with built-in integrations and workflows specific to marketplace apps.


In our opinion, the best no code marketplace app builder on the market (pun intended) right now is Sharetribe.


You can launch a fully functional marketplace MVP on Sharetribe for just $119 a month!


As you grow and scale, Sharetribe offers space for you to build you own custom store and conenct it to their marketplace backend for just $299 per month once you reach $30,000 in monthly transaction value.
Hey there stranger, thanks for reading all the way to the end. Consider joining our mailing list for a one-stop resource on how to develop an app with no experience and become a well-rounded founder. Get a nifty list of questions to ask app developers when you sign up!
App Developer Interview Questions Template
Download this template now so you know exactly what to ask App Development Agencies! Let us know where should we send it through the form below.