Never been easier to build drag and drop websites
And yet, it's also never been so hard to start.
Anyone building a website today is bound to check out no code options.
However, one Google search later and they're already facing their first problem: too many choices!
The no code website builder space has turned into a supermarket cereal aisle.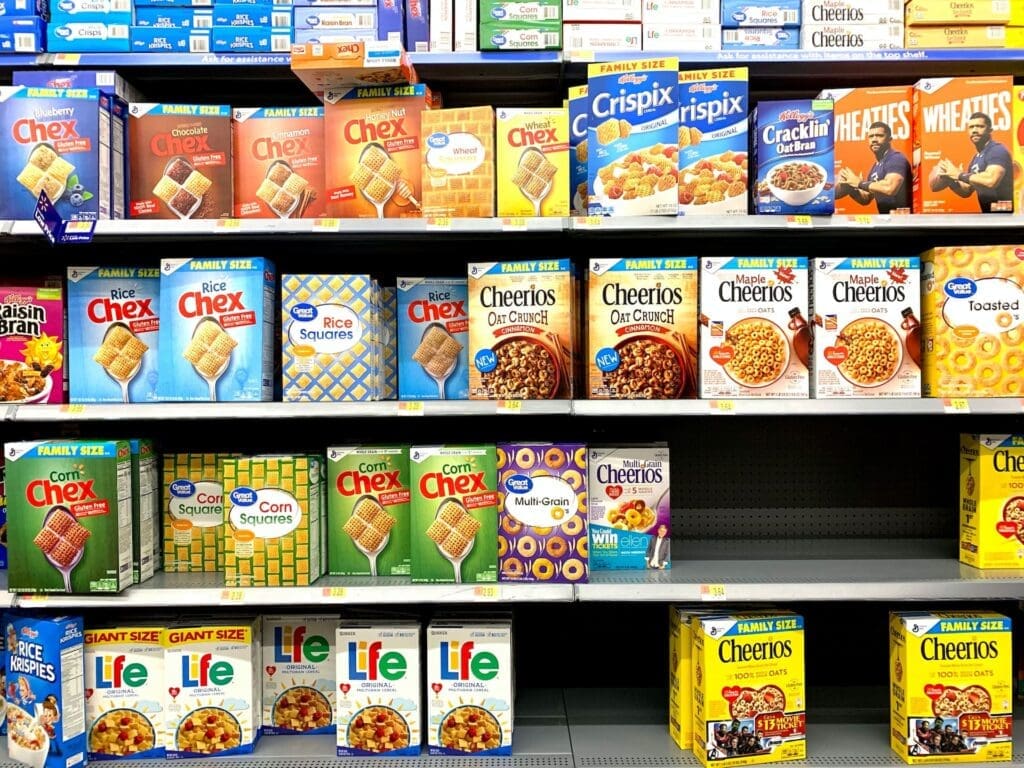 If that's been your experience, we think we can help.
We tested several drag and drop website builders to bring you the best!
After going through over a dozen options, here's our list of the top 4 recommended drag and drop website options:
All are drag and drop website builders, but each is the ideal solution for a specific use case.
In fact, if you're eager to begin, you can just check out the table below and choose the website builder that best matches your use case.
| | | | |
| --- | --- | --- | --- |
| | Use Case | Price (annual) | Key USP |
| Webflow | Websites with heavy animation, complex features, and freedom for customization | $23 / month | Over 2000 templates ranging from free to premium across multiple categories and features |
| Super | Websites built using Notion documents | $16 / month | Removes Notion CTA and turns notion documents into professional looking sites |
| Carrd | Websites with just ONE page | $1.60 / month | It's cheap as heck! |
| Framer | AI assistance during website creation | $15 / month | Can generate full set of pages and continue to iterate designs with AI |
If you'd like a more thorough explanation of each platform, read on!
1st use case: All-round functionality, reliability, and security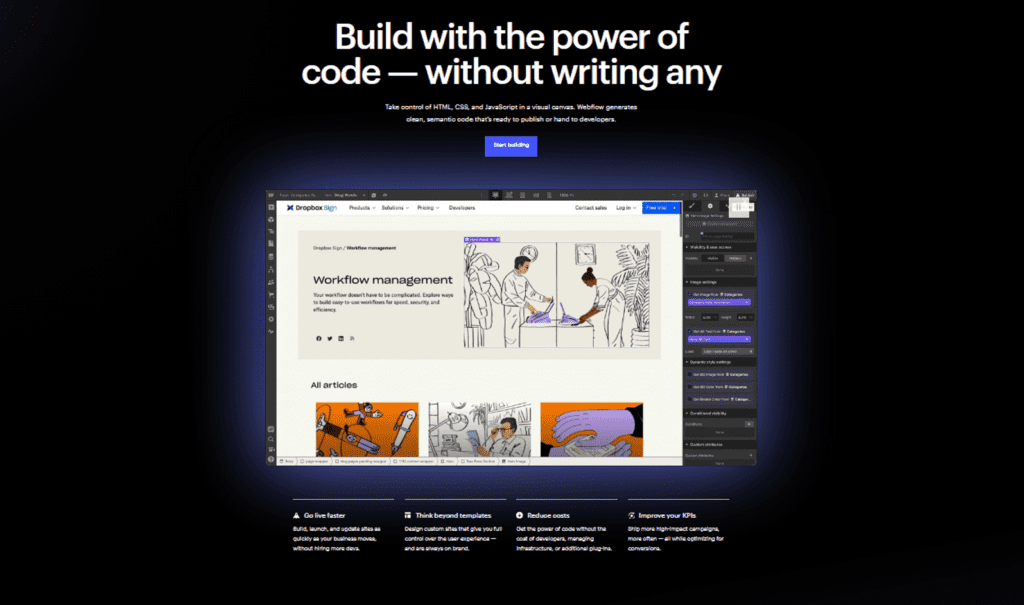 Our recommendation: Webflow
It matters that Webflow has been around since 2013 – that's ten years!
You don't stay at the top of the website builder space for a decade by having a mediocre product.
At a glance, Webflow offers everything you'd need to build a complete website:
A drag and drop page builder
The ability to edit pages directly from the frontend
Advanced animations and interactions tools
A CMS that works for designers AND writers
An e-commerce builder
SEO tools
Hosting, and
Website Security
You don't have to duct tape a million plugins together – just focus on making a good website that your audience will love.
And if you aren't great at design, Webflow has 2,000 templates across five languages you can choose from.
Finally, there is a genuine desire to educate and upskill users through their Webflow University.
But if you don't want to learn anything, you can always hire a Webflow expert to do it for you!
If WordPress was built today, it would be Webflow.
2nd use case: You want to build a website with Notion
Our recommendation: Super, not to be confused with Supabase.
If you've used Notion, you already know it's amazing for creating documents.
Technically, Notion already lets you turn documents into a website in seconds, but it comes with limitations, namely:
it looks like a document – because it is a document
it's hosted on a Notion URL, and worst of all
there's a Notion CTA the top corner
Sometimes these limitations don't matter.
Sometimes they do.
That's when you turn to Super.
It wraps your Notion page in a more attractive and functional container.
They've got a step-by-step guide to turn your Notion pages into a professional looking website.
You get to choose a template, organize your internal linking, and edit the site theme so nobody would ever guess it's really just a word document with heavy lipstick.
And whatever changes you make to the Notion document are automatically reflected in Super.
Now you can:
Add a navigation bar
Publish to your own custom domain
Change your site theme elements
Add password protection
And most importantly, no more Notion CTA button.
3rd use case: You just want ONE fully functional web page
Our recommendation: Carrd
Do any one of these situations describe you?
Why bother with Webflow when Carrd is so much simpler and gets the job done just as well?
Their plan with custom domains is just $19 per year – which comes to $1 and 60 cents a month.
Keep in mind you always get what you pay for, so expect limited functionality and a smaller template library to choose from.
But did we mention it's just $1 dollar and 60 cents a month for a fully functional, professional-looking web page?
4th use case: You want help building a website without paying for it
Our recommendation: Framer
Sounds like you need some AI assistance with your no code website building.
For full disclosure, Webflow has talked about implementing AI.
However, we don't think they shared a concrete date, and as founders and entrepreneurs, it's generally better to look for tools you can use right now.
Which brings us to Framer, specifically Framer's Start With AI.
Instead of browsing through a gallery of templates (though that is available), you can just prompt an AI assistant to generate specific web pages.
You can continue prompting for more pages or manually customize the page design elements.
Other than that, we'd say Framer is pretty much a younger version of Webflow.
They were founded in 2016 so it's no surprise.
They provide support features like:
SEO
CMS
Security, and
Templates
We need to point out that their user education at the moment pales in comparison to Webflow's.
But if you're set on using AI, we think you'll have a good experience with Framer.
What if we didn't cover your use case?
Meh, just use Webflow.
Kidding!
Look, there are too many use cases out there to list out.
And even if we somehow did manage to list out and address them, someone would just invent a new one five minutes later.
So here's what you should do.
First, make sure you understand what you want out of your website.
Next, list down what you want, making sure it's easily understood and each item is distinct.
Now, go to the nocode subreddit and ask for suggestions – those guys are super helpful.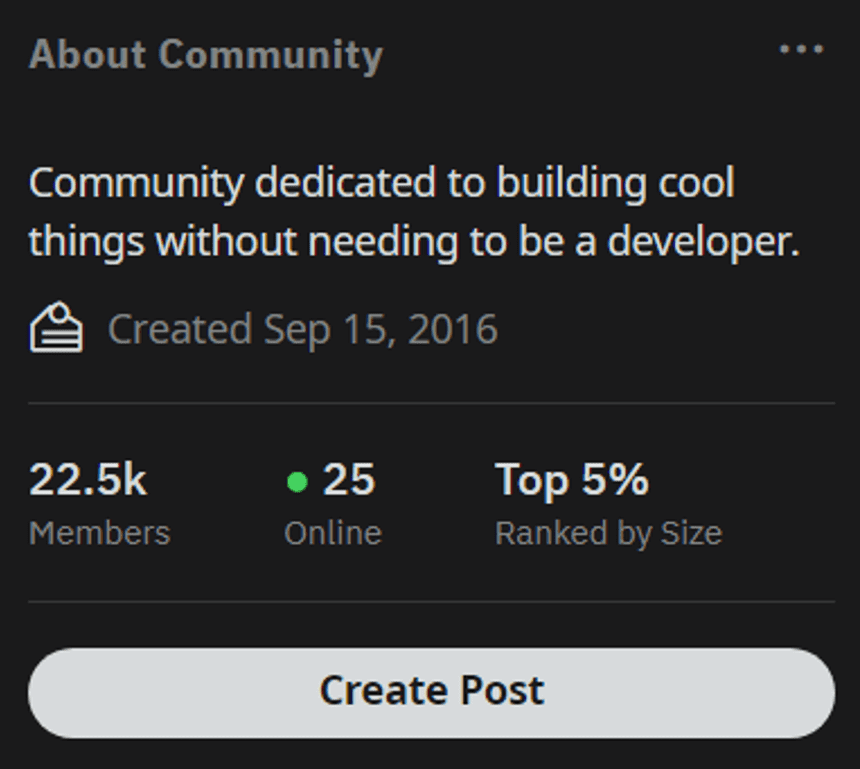 Just take any recommendations to use Bubble with a grain of salt!
Here's our Bubble review if you're interested.
Hey there stranger, thanks for reading all the way to the end. Consider joining our mailing list for a one-stop resource on everything from micro SaaS validation all the way to execution and promotion. Get a nifty list of questions to ask app developers when you sign up!
App Developer Interview Questions Template
Download this template now so you know exactly what to ask App Development Agencies! Let us know where should we send it through the form below.